This weekend was one big movie marathon. Boyfriend and I bought My week with Marilyn, the Artist and the Iron Lady and decided that we're gonna watch them all - one day, one movie.
(all pictures found on Google)
So Friday came and we decided to start with the lovely Marilyn.
Movie starts with the opening lines:

In 1956, at the height of her career, Marilyn Monroe went to England to make a film with Sir Laurence Olivier. While there she met a young man named Colin Clark, who wrote a diary about the making of the film. This is their true story.
I've always had a lot of sympathy for Michelle Williams (ever since Dawson's Creek) and I was superexcited to see how she managed to pull it off. And I can say she did a great job, it's so obvious how much of work and effort she's put into building the Marilyn character (in some parts of the film that effort is, in my opinion, too obvious so it all seems a bit too unnatural and played). Marilyn is complex, fragile, scared, lost, confused, but on the other hand brilliant, charming, beautiful, carefree and...well, a total superstar. When she shows up, everything stops. Every guy falls for her and every girl is jealous of her. And all she wants is to be loved for who she is, not just for the Monroe mask.
Marilyn: People
always see Marilyn Monroe. As soon as they realize I'm not her, they run.
Above all, My week with Marylin is a sad movie, at least it was for me. In it you'll see all the beauty of the filmmaking, of how things work on the set, on how all those people co-exist with each other on the daily basis. It's a gorgeous world and everyone wants to be a part of it. Also, it's an extremly cruel world where no rules exist. One day you're loved, another one hated. You see jealousy, fear, manipulations, but also love, loyalty and friendship. But the whole story of Marilyn Monroe is so sad that I couldn't help being sad when this movie ended.
Colin Clark: Here's what I remember most: her embrace. Her belief in me. And the joy she gave. That was her gift. When I think of her now, I think of that time when a dream came true. And my only talent was not to close my eyes.
Then Saturday came and we were about to watch the Artist.
I was blown away by it. It is amazing and I really highly recommend it. For some of the sceptics out there - yes, I know it's a 1.30 hours of a silent movie and yes, I know how you feel about silent movies but this one is so awesome and fun and perfectly directed and acted that you simply must see it. It's a must see film.
It tells the story of George Valentin, a silent movie actor superstar whose glory fades away as the silent movies are being replaced by the ones with the sound. He, of course, doesn't want to follow the trend and is so confident that there is no future in the sound that he goes and spends all of his money on producing, directing and acting in his own silent movie, Tears of love, which of course fails in the competition with the super popular sound films with a new star Peppy Miller.
I've already told you too much so I'll stop before I go on and share everything about Peppy, but the point of all this is to make you see it. The Artist has it all - great directing, great acting and the amazing little dog who's gonna make you adopt a pet if you don't have one already.
And so the Sunday came and so did the grand finale - the Iron Lady.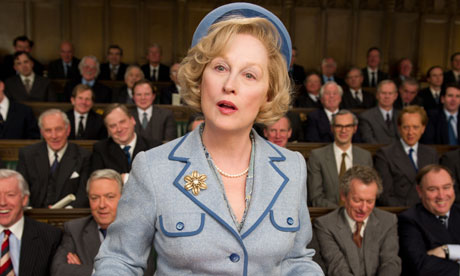 Margaret Thatcher: It used to be about trying to do something. Now it's about trying to be someone.
I adore Meryl Streep and I don't even have to say how great actress she is, I'd say the best in the world. Out of these 3 films this one was one was the story I was the least interested in, but I wanted to see it. And I loved it the most.
Atmosphere in some parts reminded me of the King's speech (brilliant, if you haven't seen it, go and change that), the story is told so well and uncofusing although they're mixing past with the present and the storyline goes into many ways in telling the story about the life and career of Margaret Thatcher.
Movie starts with the elderly Margaret who is talking to her recently deceased husband because she is struggling to come to terms with him passing away. Incorporated with that we follow her life story - the childhood, ambitions, marriage, politics etc.
After the movie ended I just sat there in front of the TV, staring at the credits.
I went to bed and couldn't sleep.
Margaret Thatcher: Watch your thoughts for they become words. Watch your words for they become actions. Watch your actions for they become... habits. Watch your habits, for they become your character. And watch your character, for it becomes your destiny! What we think we become.