'A KISS IS JUST A KISS.'
I was eating my beloved
Ritter Sport Praline
chocolate and wondering should I move on to the script writing or book reading when my iPhone blinked, showing a message on Instagram from my dearest
Ela
. She texted me that she's watching
YOUNGER
, that it's hillarious and that she hopes it's gonna stay that way 'till the end of an episode.
I was like
'WTF? has the new season started and I had no idea?'
and the answer was
YES
, my second favourite show
(number one is How to get away with murder)
is back on and I'm so freaking excited.
I dropped
EVERYTHING
that minute, jumped back to my computer and went searching for the episode. Seconds later I was sitting on the couch with Frida next to me
(she has a good taste in TV shows)
, tube of Pringles in hand and I almost screamed when it started
(and then I screamed a few times again during the next 20 and something minutes)
.
In case you're just about to watch it, I must warn you -
MAJOR SPOILERS
ahead so proceed with caution. And if you're reading this, wondering -
what the hell is Younger and why is she so obsessed with it?
- then go back to the first season and start watching, you'll thank me later.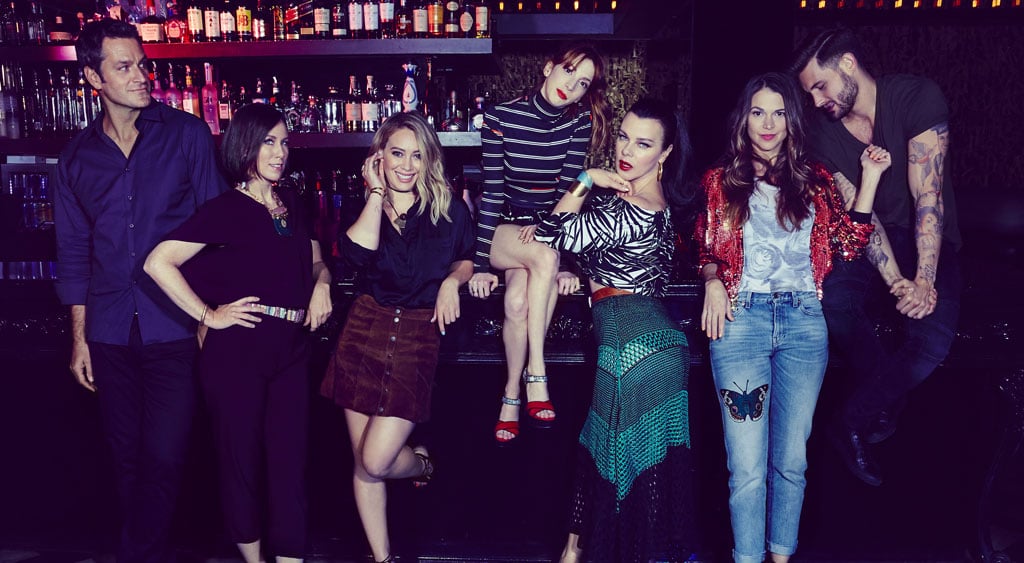 So, where was I?
The last season left us wondering -
Charles or Josh?
- and the problem is that even though they're so incredibly different, it's still almost impossible to choose which one you like more.
I remember when I first started watching the show and there was this crazy handsome and cool
Josh
, right at the start of the first episode and I was like -
pleeeese go out with him!
- and then later
Charles
showed up, being all very serious, successful, handsome and about 15 years older than Josh and I was like -
omg he is sooo perfect, I want them to be together!
- but actually for the first time ever I couldn't decide which one I'd like to see in a big happy ending with unbelievably cool
Liza
.
And I still don't have the answer.
At the end of the last season, Josh told Liza that he's all in no matter what and that he's actually gonna keep her secret about lying about her age and that was so awesome to see after the entire season of their ongoing drama
BUT
then Charles came and kissed her and my head exploded.
So what have we learned from the third season so far?
Josh
is still super cute and completely in love with Liza but the entire episode revolves around her and
Charles
, which was to be expected after the last season finale, plus he finally asked her out and it was so charming and adorable that I found myself again cheering for them -
they're the same age, they love the same things, they look perfect together etc.
- but good lord she's so insanely cute with Josh too. So many problems, right?
So, we're waiting to see if she's gonna show up that night for the big and fancy date with Charles. Josh texts her and she says she can't make it and while her best friend is telling her all the reasons why Josh is more awesome, Liza gets all dressed up, ready to meet with Charles.
On the sidenote,
Kelsey
is still in mouring over her dead fiancee
(his character was so incredibly annoying)
so their boss, the fabulous
Diana
, decides to take her out for drinks to some super happy gay bar where everyone is singing show tunes. It's hillarious and I loved seeing this relaxed
(drunken)
side of Diane because she's actually such a fun character.
But what we're all waiting for is the situation between Liza and Charles.
And of course things had to turn into a complete mess.
When she enters the bar where Charles waits for her, she sees him talking to a married couple who she's met before when she was with her daughter
(and no need to remind everyone that he's completely unaware that she isn't a 26 year-old with an old soul)
so she freaks out and rans away from that place, leaving him thinking that she doesn't want to have anything to do with him. I literally wanted to cry.
And I was like -
NO, NO, NO! Just tell him the truth finally, pleaseeee!
- but obviously I'm gonna have to wait probably for the season's finale for that moment to arrive because that's just how tv shows work.
There needs to be drama with lots of twists and turns and crazy situations because otherwise it wouldn't be a fun thing to watch. But that's also one of the reasons why I love to binge watch my favourite series - that way I get to see the entire storyline without having to wait for weeks (months!) for the big questions to be answered.
So, before the episode 2 hits the tv, let's talk:
team Charles or team Josh?
And in case you're still unfamiliar with the show, go and start watching it so we can discuss everything. I promise you're gonna completely fall in love with it.